New England Mechanical Contractors Association
For over 100 years, New England Mechanical Contractors Association has been a construction industry trade association representing premier mechanical construction firms throughout Massachusetts, Rhode Island, Maine, New Hampshire and Vermont. From building new large scale construction to servicing and maintaining existing facilities, our member contractors employ the most highly skilled and trained workforce in New England delivering cost-effective, timely results and staying abreast of leading-edge technology and industry practices.
We offer membership within the Mechanical Contractors Association, Mechanical Service Contractors Association, and the National Certified Pipe Welding Bureau. We support our member contractors through our educational seminars, labor and government relations, industry news and marketing. Committed to the future of our industry, we sponsor MCA student chapters at Northeastern University and Wentworth Institute of Technology in Boston. Our affiliation with the
Mechanical Contractors Association of America
and our strong, cooperative relationship with the
United Association
enables us to offer our members numerous opportunities to build lasting, beneficial relationships with peers while acquiring the business knowledge and tools to keep their company successful.
"Far and away the best prize that life offers is the chance to work hard at work worth doing."
--Theodore Roosevelt
Recent News
May 2013
Fenway Center Deal In Sight
Gov Patrick made a deal for the $500 million Fenway Center mega-development.  If approved, as expected, by a state board, construction could begin by the end of 2013.  The Patrick Administration worked out a tentative lease deal with developer John Rosenthal for the 4.5 acre state owned site.  The plan is for five buildings with 550 apartments, stores, restaurants, parking garages and an office-residential-retail complex.  It will also be the first major air rights project over the Mass Pike since Copley Place in the '80's.
Boston Conservatory Breaks Ground in Fenway
The Boston Conservatory, a performing arts school, will break ground on a $20 million facility that includes an orchestra rehearsal hall, dance studios and educational space next week.  The facility is located across from Fenway Park and 1,000 feet from the main building at #8 Fenway at 132 Ipswich St.  Mass Development issued a $24.5 million tax-exempt bond on behalf of the school to purchase and develop the property.
Smartphone Use By Contractors Jumps
Contractors use of smartphones while on the jobsite jumped 35% from last year.  While the use of tablets rose nearly 54% over last year, most contractors said they use smartphones as part of their workday.  Of those surveyed, 56% think smartphones are the fastest growing technology device in the building and construction industry, followed in second place by tablets.
First Republic Bank, MassDevelopment Support Deerfield Academy Arts Expansion
MassDevelopment has issued a $15 million tax-exempt bond on behalf of the Trustees of Deerfield Academy and First Republic Bank purchased the bond.  Deerfield Academy will use the money to build two additions to the Center for the Arts building. The additions will total 15,000 square feet and will house an art gallery, class space, a chamber hall and other support space. The academy will also renovate the 63,000-square-foot center with new art studios, a dance studio and music practice rooms.
WPI Dedicates Newest Gateway Park Building
Worcester Polytechnic Institute dedicated the newest Gateway Park building, a $32 million, four-story academic building that also houses private-sector functions.  New England MCA member NB Kenney performed the mechanical construction.  The top two stories of the 92,000 sqft building will house 200 employees from Siemens Technologies.  The bottom two floors house the WPI Biomanufacturing Education and Training Center, an expanded Fire Protection Engineering research and burn laboratory and the graduate division of WPI's School of Business.
Harvard Gets Approval for Allston
Harvard University won approval for a $150 million mixed use project in Allston at Barry's Corner.  The 350,000 sqft development will include 325 apartments, 45,000 sqft of retail space and 221 parking spaces.  60% of the units will be studios  and one-bedrooms and 40% will be two and three-bedrooms.  The parcel is adjacent to Harvard Business School.
Millennium Tower Back on Track
Construction will soon begin on the $630 million Millennium Tower / Burnham Building complex in Downtown Crossing.  The project is being developed by Millennium Partners.  Arnold Worldwide and Havas Media have agreed to lease 125,000 sqft and become the anchor tenant.  They have a move in date of September 2014. 
Commercial Building Automation Boom
After years of steady growth, the commercial building automation systems (BAS) market is experiencing rapid growth.  Over the next five years BAS investment will grow to $43 billion, up from $35 billion this year.  The appeal of reducing energy consumption and the benefits of optimizing building automation systems are two key factors in driving growth.  Another factor, a new level of connectivity that stretches the reach of building automation systems from new sensors and actuators through to cloud application management and data analysis.  Within the BAS market, software and services will see the greatest revenue growth while hardware will lag as the pricing of actuators and switches fall.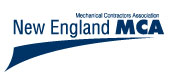 New England MCA
Serving the New England Mechanical Construction Industry by providing resources to help manage and grow business and by keeping members connected to changes in the industry.

New England MSCA
The New England Mechanical Service Contractors Association works to advance and promote our contractors performing service and refrigeration work in the HVACR industry.

New England NCPWB
New England National Certified Pipe Welding Bureau - New England's resource to educate and promote compliance with welding codes and certification in the Pipe Welding Industry.