New England Mechanical Contractors Association
For over 100 years, New England Mechanical Contractors Association has been a construction industry trade association representing premier mechanical construction firms throughout Massachusetts, Rhode Island, Maine, New Hampshire and Vermont. From building new large scale construction to servicing and maintaining existing facilities, our member contractors employ the most highly skilled and trained workforce in New England delivering cost-effective, timely results and staying abreast of leading-edge technology and industry practices.
We offer membership within the Mechanical Contractors Association, Mechanical Service Contractors Association, and the National Certified Pipe Welding Bureau. We support our member contractors through our educational seminars, labor and government relations, industry news and marketing. Committed to the future of our industry, we sponsor MCA student chapters at Northeastern University and Wentworth Institute of Technology in Boston. Our affiliation with the
Mechanical Contractors Association of America
and our strong, cooperative relationship with the
United Association
enables us to offer our members numerous opportunities to build lasting, beneficial relationships with peers while acquiring the business knowledge and tools to keep their company successful.
"Far and away the best prize that life offers is the chance to work hard at work worth doing."
--Theodore Roosevelt
Recent News
December 2013
National Certified Pipe Welding Bureau promotional video on YouTube:  http://youtu.be/2HUw96ZmsTU
Proposed Back Bay Tower Pulled From Agenda
A proposal to build a 33-story hotel and condominium tower in Boston's Back Bay was abruptly pulled from the Boston Redevelopment Authority's agenda Tuesday amid persistent complaints from neighbors about the project's impact on wind and traffic.  Developer Trinity Stuart LLC requested that a planned vote on 40 Trinity Place be postponed because it was not advertised long enough in advance of Thursday's BRA meeting. The mix-up could have given additional legal ammunition to neighbors who have continued to object to the proposal.  Neighbors said they are not opposed to a major redevelopment of the site, but that the developer is trying to build too densely. "The size of the building they have proposed is so over the top," said Tom Iannotti, a condominium owner at the neighboring Clarendon Residences.
Wentworth To Expand
Wentworth Institute will go forward on plans to construct a $350 million mixed-use project at 500 Huntington Ave.  This will be the largest project they have ever undertaken.  The 6 story, 78,000 sqft Center for Innovation in Engineering and Technology and the 18 story, 546,000 sqft Center for Community and Learning Partnerships will be constructed on the current athletic field.  Wentworth has retained Colliers International to help develop the commercial space.
Skanska tapped to build $57M facility for Harvard Business School
Skanska has signed a contract with Harvard Business School to build a new $57 million administrative and education facility in Allston.  The proposed Ruth Mulan Chu Chao Center will include four stories and will replace Kresge Hall near Soldiers Field Road in Allston. The planned 87,000-square-foot building will support the school's executive education program and will include dining space, classrooms, offices and common areas.  The new building is expected to accommodate more than 10,000 students who will attend executive education programs annually. It will also serve as the gateway for a five-buildings complex housing the school's executive education division in the northeast corner of the HBS campus.  The center's construction is part of Harvard's 10-year master plan with the Boston Redevelopment Authority. The plan calls for 1.4 million square feet of projects that the school said will further expand its campus across the Charles River in Allston.
Cannistraro Named to Boston Globe's Top Places to Work
(November 18, 2013) (Watertown, MA) – This weekend the Boston Globe honored Massachusetts' best employers in its Top Places to Work magazine. This year, J.C. Cannistraro, LLC is proud to announce that it has made the list as a top place to work in Massachusetts.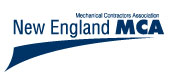 New England MCA
Serving the New England Mechanical Construction Industry by providing resources to help manage and grow business and by keeping members connected to changes in the industry.

New England MSCA
The New England Mechanical Service Contractors Association works to advance and promote our contractors performing service and refrigeration work in the HVACR industry.

New England NCPWB
New England National Certified Pipe Welding Bureau - New England's resource to educate and promote compliance with welding codes and certification in the Pipe Welding Industry.